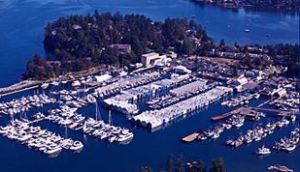 Philbrook's Boat Yard, a repair, refit and custom boat builder near Victoria BC, Canada has made the decision to upgrade their business management solution to PierVantage for Boat Yards. Philbrook's is regularly regarded as the premier full service boatyard in the Pacific Northwest and is a strong cornerstone for PierVantage in the region.
Philbrook's joins other highly respected boat yards and boat builders such as GUNBOAT, Lyman Morse Boat Building Company, Front Street Shipyard, Schooner Creek Boat Works, US Watercraft and Derecktor Shipyards in their choice to use PierVantage to help overcome key business challenges like accurately tracking true costs associated with each project and managing their just-in-time inventory purchasing process.
"Before selecting PierVantage, we were using more than four different systems to run our business, had massive duplication of efforts entering data into multiple systems, and our productivity was being held back by our outdated technology solution," said Jamie Hansen, Project Manager of Philbrook's Boat Yard.  "Moving to a modern platform like PierVantage will give us better control over our inventory, provide us with the data we need to manage our various locations, divisions and departments, and reward our employees in a timely fashion using the productivity reports available.  Best of all, the PierVantage team knows our business, supports dozens of businesses just like ours, and has been there to answer our questions every step of the way," said Hansen.
The PierVantage team is fielding inquiries for its products all over the map, and now has customers from as far out west as Victoria BC, Canada to Nova Scotia, the Great Lakes, all the way down to Grenada, West Indies.
"We have been out there for five years now and it is exciting to see the acceleration in our growth," said Navroze Eduljee, founder and CEO of CorVant, creators of PierVantage. "Having the opportunity to work with one of the biggest and most respected boat yards in the Pacific Northwest is a privilege. Our implementation team headed by Mike Frayler is working closely with the Philbrook's Team to ensure a smooth transition from their current platform to PierVantage for Boat Yards," said Eduljee.
As the marine industry gains momentum, the PierVantage team continues to see a growing demand for a business management solution that is easy to implement and easy to use, backed by a team that delivers on its promises.
ABOUT PIERVANTAGE FOR BOAT YARDS
PierVantage is the leading cloud based business management solution designed specifically for the marine industry.  Boat Yards use PierVantage to simplify job estimation, work management and invoicing, reduce their inventory carrying costs and increase the efficiency and profitability of their operation.  Cloud based means the solution is easy to implement, offers tremendous reliability and security compared to on-premise systems and future upgrades are FREE and require no effort on your part.  The solution is backed by a highly responsive and knowledgeable support team.  Embrace change by upgrading to PierVantage and enjoy the freedom and convenience of accessing your business anywhere, anytime.
PierVantage for Boatyards gives you the features and functionality you need to do what you do best – make boats work.
For more information on how PierVantage can help your business, please visit us at www.piervantage.com or call 877.267.7172.
About CorVant, LLC
CorVant, LLC, www.corvant.com, is working with small service businesses and suppliers to develop comprehensive business management solutions that lower costs and improve customer service and satisfaction. The company's team of information technology experts developed PierVantage™, the first and only integrated boatyard management solution available as a SaaS offering, and FulVantage™, a cutting edge web-based e-business solution for wholesalers and distributors.
CONTACT:
Dan Tipton (for CorVant, LLC),
Tipton Communications
302.454.7901