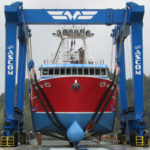 PierVantage, the marine industry's first and only true cloud based solution sees a compelling need for its platform with Commercial Marine operations based on continued sales success in that segment.
Utilized by complex, leading boat builders and boatyards across North America, PierVantage has caught the eye of many Commercial Marine professionals struggling to grow their business without an end-to-end business management platform.  Several leading businesses see PierVantage as a perfect fit for their growing business and are realizing its value in streamlining operations, understanding build costs and managing inventory.
"While we have been largely focused on the recreational marine segment, we have had a string of customers in the commercial marine segment," said Greg Miller, Vice President of Sales and Marketing at CorVant, developers of PierVantage. "There are unique nuisances in Commercial Marine, but essentially companies are all dealing with the same business challenges such as tracking real time job costs, progress billing, and customizing reports to monitor performance of projects," said Miller.
After recently onboarding Pacific Fishermen Shipyard and Electric and Fred Wahl Marine Construction, two well respected Commercial Marine companies in the Pacific Northwest, it did not take long for the PierVantage team to validate that it was a good fit for the type of work commercial operators are executing.
About PierVantageTM
PierVantage was designed and architected with input from some of the most respected boatyards and boat builders in the marine industry.  PierVantage helps marine businesses improve efficiency and increase productivity by giving them the tools to better organize and track daily tasks and routines.  It offers easy to use modules designed to seamlessly track and manage projects from the estimate to invoice, streamlines the work order process throughout the life of a job, and because it is cloud based, you can access it from anywhere, anytime. PierVantage increases employee accountability, improves communication across all departments, and provides visibility to analyze productivity and profitability to help marine businesses make more informed business decisions.
For more information on how PierVantage can help your Commercial Marine business, please visit our commercial marine page and/or contact our sales director Stephen Bullard at .