Newark, Delaware (December 20, 2022): Maritime businesses saw a significant increase in growth post-pandemic. The outlook for the next few years is one of transformation and opportunity for those in this field of marine.
PierVantage's team has always strived to deliver meaningful enhancements that improve our users' experience, and hopefully, make their jobs a little easier. To this end, the feedback we receive from our PierVantage users is central to our development planning efforts. The feedback is sometimes as varied as the marine businesses and individuals we serve, so we seek to identify trends and changes that have a positive impact across a broad range of users.
For the first time in our history in 2022, PierVantage had 4 major releases in a single year – a feat that will leave its mark on our legacy.
PierVantage Highlights: Software & Feature Developments in 2022 
Below are the new time-saving enhancements for an improved PierVantage –
Purchase Order Templates
Edit an existing Purchase Order and use the Save As function to copy all of the parts and disbursements, saving time on repeat orders.
Batch Update Fixed Pricing
Upload a price list to set new Fixed Prices on parts.
Work Order Save as an Estimate
Convert a finished project into a new estimate, in order to apply the actual results of a finished job to quickly and accurately estimate a new one.
Quick Add Vendors from AP Entry and Purchasing
Create new vendors on the fly from within those modules so that you don't have to stop what you're doing and go to another module, then reload the page.  Do it all on the same screen.
Single Sign-In for Power Users
Users with "Allow Portal Login" permission are no longer required to re-enter their credentials when navigating to Time Entry or Part Checkout.
Go To Work Order Button in Billing
Open a related Work Order from Billing, allowing you to quickly access the information you need without the extra clicks.
Part Checkout from Part Admin
Check out units of a part directly from the Part Admin module, if you are reviewing an part and need it on a job, you can do so without needing to access the Part Checkout module.
Copy Labor Notes from the Op Code and Work Order level
You no longer need to go through Task by Task in order to copy tech labor notes.
PierVantage Internal Development
We are proud to reflect on the tremendous growth and progress we have made over the years. The PierVantage team have been working hard to improve our internal development management process, and the releases in 2022 have helped up with the following:
Improved Quality Assurance
Quicker turnaround on feedback
Easier for users to process the changes
More predictable release schedule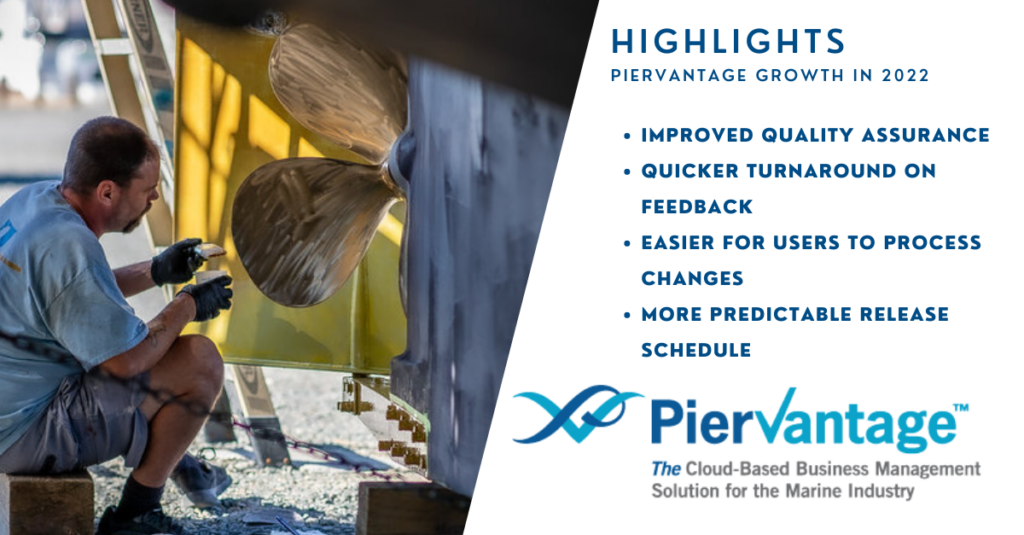 PierVantage Going Forward – 2023
The team is thrilled to announce that we will be releasing new versions of PierVantage every quarter in 2023. We are committed to providing you with the highest quality services and working on continuous improvement, taking into account all of your valuable feedback.
We look forward to you being part of the PierVantage family and help your maritime business succeed.
Let's set sail together towards a successful 2023!