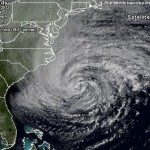 Each year the fury of Mother Nature threatens the very livelihood of boatyards and marinas. Most recently, Hurricane Sandy brought in storm surges, astronomical tides, and crushing winds that were felt up and down the Eastern seaboard. Regrettably, physical damage occurred in epic proportions throughout the Northeast.
While yard crews are focused on pulling boats, boarding up buildings and securing the lines to protect physical property, critical server and storage equipment on your premises that house customer information, in-process work orders, billing information for work completed and business financials is highly susceptible to loss and potentially irrecoverable damage.
It is extremely challenging rebuilding a business after a catastrophic event like Hurricane Sandy. Modern technology solutions like PierVantage make it a little easier!
PierVantage is the industry's only true cloud based marine management solution. That means the servers and storage equipment that run PierVantage are hosted in secure and highly redundant data centers in different parts of the United States and are designed to keep your business running no matter what Mother Nature throws your way. With PierVantage, an Internet connection is all the infrastructure you need. You and your employees can access PierVantage's cutting edge functionality from anywhere in the world.
So before the next storm begins to brew offshore, give yourself the peace of mind that comes with knowing your critical business information is backed up, secure and readily accessible in the cloud with PierVantage.
Protect your business today by reaching out to me or log onto www.piervantage.com and fill out the request to learn more about PierVantage.