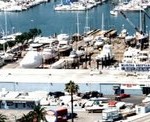 California based Shipyard, Marina Shipyard selected PierVantage for Boat Yards for their new business management solution.  Marina Shipyard is a progressive company that has been servicing customers on the west coast since 1964 and grown to an over 8000 returning customer portfolio today.
Marina Shipyard joins other highly respected boat yards such as Front Street Shipyard in Maine, Derecktor Shipyard in NY, Philbrook's Boatyard in Sidney, BC, Grenada Marine in the West Indies, and Zimmerman Marine in MD/VA/NC, in their choice to use PierVantage to help overcome key business challenges like accurately tracking true costs associated with each project and managing their just-in-time inventory purchasing process.
"We put off changing software for a long time but knew one of these days it was time to take the next step," said Cyndee Allen, General Manager of Marina Shipyard.  "PierVantage was specifically built to run the shipyard more efficiently.  Now we can easily and quickly track the progress and costs of our projects, run operational and financial reports with real time data, and bill customers whenever and from wherever we want," said Allen.
"Marina Shipyard is a great addition to our growing customer base," said Greg Miller, Director of Operations for CorVant, creators of PierVantage.  "Cyndee and the team are very organized and embrace change with enthusiasm.  We are looking forward to helping them streamline their operation from a business management solution perspective and we are looking forward to a long term relationship with a growing California yard," commented Miller.
As the marine industry gains momentum, the PierVantage team continues to see a growing demand for a business management solution that is easy to implement and easy to use, backed by a team that delivers on its promises.
ABOUT PIERVANTAGE FOR BOAT YARDS
PierVantage is the leading cloud based business management solution designed specifically for the marine industry.  Boat Yards use PierVantage to simplify job estimation, work management and invoicing, reduce their inventory carrying costs and increase the efficiency and profitability of their operation.  Cloud based means the solution is easy to implement, offers tremendous reliability and security compared to on-premise systems and future upgrades are FREE and require no effort on your part.  The solution is backed by a highly responsive and knowledgeable support team.  Embrace change by upgrading to PierVantage and enjoy the freedom and convenience of accessing your business anywhere, anytime.
PierVantage for Boatyards gives you the features and functionality you need to do what you do best – make boats work.
For more information on how PierVantage can help your business, please visit us at www.piervantage.com or call 877.267.7172.
About CorVant, LLC
CorVant, LLC, www.corvant.com, is working with small service businesses and suppliers to develop comprehensive business management solutions that lower costs and improve customer service and satisfaction. The company's team of information technology experts developed PierVantage™, the first and only integrated boatyard management solution available as a SaaS offering, and FulVantage™, a cutting edge web-based e-business solution for wholesalers and distributors.