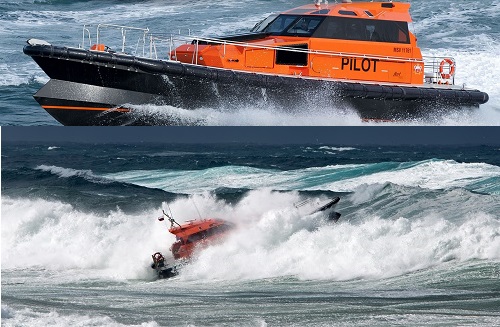 Newark, Delaware (January 7, 2019) – CorVant, LLC., creator of PierVantage, the marine industry's leading business management solution, is proud to announce leading Australian boat builder, Hart Marine, implemented PierVantage for Boat Builders. Hart Marine specializes in building commercial pilot boats for clients around the world.
"We needed a solution to give us the ability to obtain reliable and timely information from our Accounting Software," said Geoff Collins, CFO of Hart Marine. "We chose PierVantage because they offered a cost-effective solution to our problem. It is rare to find an "off the shelf" product that can deal with the vagaries of a complex manufacturing business. PierVantage also worked with us to adapt the program for the Australian market," said Collins.
The Australian marine industry is large and highly innovative, making it a good fit for a cloud-based business management solution built specifically for and only employed in marine sector.  This gives PierVantage a few competitive advantages.  One, it supports marine businesses that are looking to improve their workflow and profitability, and two, it is flexible enough to adapt to different markets with unique needs.
"We are thrilled to see PierVantage enter the Australian market with one of the finest boatbuilders in the industry," said Navroze Eduljee, founder and CEO of CorVant, creators of PierVantage. "We have had our eye on the Australian Marine Industry for a while. It was a matter of finding the right partner to take the plunge with. Hart Marine's energetic, positive, knowledgeable, and professional team was great to work with throughout the implementation process and we look forward to supporting their growing boat building business for years to come," said Eduljee.
ABOUT PIERVANTAGE FOR BOAT BUILDERS
PierVantageTM is the leading cloud based business management solution designed specifically for the marine industry.  Boat builders use PierVantage to improve the efficiency of their custom, semi-production or production boat building operations by leveraging its all-in-one integrated solution that systematically organizes and tracks every stage of your build process. The build template gives project managers the tools they need to organize labor and material for the jobs required for each new build.  Sophisticated procurement capabilities allow you to acquire materials just in time, significantly minimizing inventory carrying costs.  Detailed operational and financial analytics provide visibility into every stage of the build process, allowing you to maximize profitability.
PierVantage for Boat Builders gives you the features and functionality you need to do what you do best – build quality boats.
ABOUT HART MARINE
With a long tradition in building high performance vessels using composite materials Hart Marine now produces some of the finest pilot boats available.  Hart Marine's new generation pilot boats have shown that they're more than capable of taking on the demands of bigger ships, longer pilotages and more frequent harbour visits.