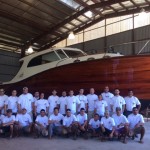 Costa Rica based designer and boat builder, Maverick Yachts Cost Rica recently selected PierVantage for Boat Builders to help them manage their growing business. Maverick Yachts plans to leverage PierVantage for their three models including the 43'Maverick Flybridge, the 32' Maverick Express, and the 48' Maverick SportYacht.
Maverick Yachts joins other highly respected boat builders such as GUNBOAT, US Watercraft, Schooner Creek Boatworks, Dixon Marine Group, Derecktor Shipyards in their choice to use PierVantage to help overcome key business challenges like accurately tracking true costs associated with each boat build and managing their just-in-time inventory purchasing process.
"We purchased PierVantage to give us better insight into the true costs of building our boats but what I am really impressed with is the implementation process that PierVantage goes through," said Larry Drivon, owner of Maverick Yachts Costa Rica. "I have been involved in many software implementations in my career and the cost of the implementation is insignificant compared to what services are provided to onboard our company," said Drivon.
Up to this point, Boat Builders have relied on a handful of non-integrated non-marine specific software products such as Microsoft Project, Microsoft Excel, Quickbooks, and others. PierVantage for Boat Builders is a fresh new option for owners, project managers, purchasing managers, and controllers to turn to for a comprehensive integrated business management solution.
"We are very excited to be working with Larry and the team at Maverick Yachts Costa Rica," said Navroze Eduljee, founder and CEO of CorVant, creators of PierVantage. "As passionate as we are about building software platforms that solve business challenges, they are equally passionate about building some of the finest yachts in the world ~ it is a partnership we look forward to having for years to come. Our team plans to join the Maverick Yachts crew as they unveil their newest cold-molded mahogany Sport Fishing Yacht later this month at the Palm Beach Boat Show," said Eduljee.
ABOUT PIERVANTAGE FOR BOAT BUILDERS
PierVantageTM is the leading cloud based business management solution designed specifically for the marine industry. Boat builders use PierVantage to improve the efficiency of their custom, semi-production or production boat building operations by leveraging its all-in-one integrated solution that systematically organizes and tracks every stage of your build process. The build template gives project managers the tools they need to organize labor and material for the jobs required for each new build. Sophisticated procurement capabilities allow you to acquire materials just in time, significantly minimizing inventory carrying costs. Detailed operational and financial analytics provide visibility into every stage of the build process, allowing you to maximize profitability.
PierVantage for Boat Builders gives you the features and functionality you need to do what you do best – build quality boats.
ABOUT CORVANT, LLC
CorVant, LLC, www.corvant.com, is working with small service businesses and suppliers to develop comprehensive business management solutions that lower costs and improve customer service and satisfaction. The company's team of information technology experts developed PierVantage™, the first and only integrated boatyard management solution available as a SaaS offering, and FulVantage™, a cutting edge web-based e-business solution for wholesalers and distributors.
CONTACT:
Dan Tipton (for CorVant, LLC),
Tipton Communications
302.454.7901