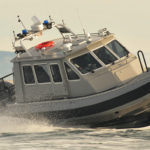 Sidney B.C. Canada based designer and boat builder, Titan Boats recently selected PierVantage for Boat Builders to help them manage their growing business.  Titan Boats plans to leverage PierVantage to help them closely track material and labor costs that go into building the following types of boats they are most known for:
Special Ops / Military
Enforcement
Search & Rescue
Recreational
Commercial
Custom Builds
Titan Boats joins other highly respected boat builders such as Lyman Morse Boatbuilding Company, Front Street Shipyard, Schooner Creek Boatworks, and Dixon Marine Group that use PierVantage to help overcome key business challenges like accurately tracking true costs associated with each boat build and managing their just-in-time inventory purchasing process.
"We purchased PierVantage to get a true analysis of our processes and procedures for now and into the future," said John Stanners, owner of Titan Boats, LTD.  "We look forward to growing our company with efficiency optimization and improved quality control using the PierVantage platform," said Stanners.
Progressive Boat Builders are experiencing positive results after investing in newer software to run their complex business and communicate better with their customers.  Up to this point, Boat Builders have relied on a handful of non-integrated non-marine specific software products such as Microsoft Project, Microsoft Excel, QuickBooks, and others.  PierVantage for Boat Builders is a fresh new option for owners, project managers, purchasing managers, and controllers to turn to for a comprehensive integrated business management solution.
"We are very excited to welcome Titan Boats as a new customer joining the growing PierVantage Community," said Navroze Eduljee, founder and CEO of CorVant, creators of PierVantage.  "Titan Boats is a highly respected boat builder in a region that is expanding and investing in new facilities and new technology to support the demand for high quality and extremely durable boats.  Titan Boat brand exemplifies this and we are looking forward to seeing them grow their business with PierVantage in the years to come," said Eduljee.
"In the Pacific Northwest, Titan Boats joins our other yards and builders running their business on PierVantage such as Philbrooks, Selene Yachts Northwest and Pacific Fishermen Shipyard & Electric."
 ABOUT PIERVANTAGE FOR BOAT BUILDERS
PierVantage is the leading cloud based business management solution designed specifically for the marine industry.  Boat builders use PierVantage to improve the efficiency of their custom, semi-production or production boat building operations by leveraging its all-in-one integrated solution that systematically organizes and tracks every stage of your build process. The build template gives project managers the tools they need to organize labor and material for the jobs required for each new build.  Sophisticated procurement capabilities allow you to acquire materials just in time, significantly minimizing inventory carrying costs.  Detailed operational and financial analytics provide visibility into every stage of the build process, allowing you to maximize profitability.
PierVantage for Boat Builders gives you the features and functionality you need to do what you do best – build quality boats.
ABOUT TITAN BOATS
Titan Boats, located on Vancouver Island in Sidney, B.C. Canada is the result of over 20 years of dedication to developing the finest vessels of their type.  Through its line of aluminum rigid hull inflatable boats, the company has been steadily building a reputation for performance combined with a commitment to exceptional quality.